Overview
A training course designed to help healthcare professionals develop a deeper level of communication to approach difficult and sensitive conversations with patients, carers, families, and colleagues with empathy. Delegates will develop a deep psychological understanding of themselves and others to best communicate with compassion.
Who is this for?
The course is ideal for all health care professionals from senior leadership to student nurses and junior doctors, advocacy staff, receptionists, social workers and all public facing professionals within health and social care who aim to put empathic healthcare and communication into practice.
Key Learning Outcomes
Develop an understanding of how empathy and emotional awareness underpins effective healthcare
Understand how a lack of empathy and emotional awareness can impact negatively on patient experience and safety, as well as, cause psychological harm.
Learn to identify and understand empathically-focused thinking and compassionate caring
Develop strategies to perform with empathy in order to prevent burn out and improve individual and team resilience
Appreciate empathetic narrative medicine through practice and how to use these narrative medicine skills for patient rapport and engagement
A tool-kit of strategies for empathetic communication to facilitate staff well – being and productivity
Masterclass Agenda
Day 1 | 18 APRIL 2022
Day 2 | 19 APRIL 2022
Day 3 | 20 APRIL 2022

Empathy: a definition and self-awareness
Introduction
What is Empathy?
Empathy and compassionate caring
Group Exercise and Reflection
The Basis of Empathy
Self-Awareness

Understanding Self – Herrmann Brain Dominance and Blinds pots
Building Self Awareness
Understanding my 'blind spots'
The Ultimate Empathy builder: Narrative Medicine
Narrative Medicine

Self-management and Communicating with Empathy
Building Self Awareness
Handling Relationships
The Empathetic Reset
Self-Motivation
Role Play
Action Planning
Masterclass leader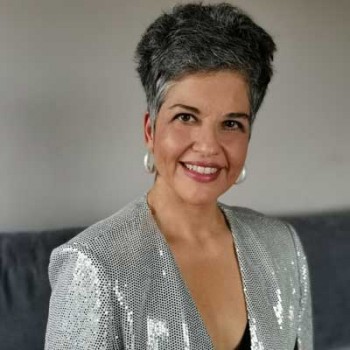 Christina Ioannidis, CEO, Aquitude Group – The Engagement Agency
Christina Ioannidis is the CEO of Aquitude, an international engagement consultancy, which works with corporations to engage with their main stakeholders – their employees and their customers. Christina has recently been awarded with the accolade 'Most Admired Brand Strategist 2019 – UAE' by Global Brands magazine.
Under Christina's leadership, AquitudeHealth, Aquitude's Healthcare division, has become the go-to consultancy focusing on the nexus of patient and employee engagement. Christina and the AquitudeHealth team have devised a unique 'Patient Experience Toolkit', enabling speedy and effective embedding of Patient-centric cultures and operations, as well as being the exclusive licensee for the PX Typology Assessment.
Christina has been engaged to review Strategic Patient and Consumer Experience processes, aligning both patient experience with clinical outcomes for government owned hospitals, such as the Ministry of Health- Bahrain. Ministry of Health, Oman. She has also provided extensive training to delegates from organisations such as the Royal Hospital – Oman, GlaxoSmithKline, Abbot Laboratories, La Roche, Merck, Pfizer.
As a natural change-agent, Christina is the host of the "Thriving Transformation" podcast which investigates international best practices in Patient and Customer Experience. She is a passionate advocate of 'Wowing' the customer / patient and is a thought leader in the subjects of Customer (Patient) and Employee Engagement, Engagement Measurement and Analysis, Retention and Life-stage Marketing, Talent Management, among others.
Past Delegate Testimonials
Excellent workshop, thank you very much – Dr S. B., Ministry of Health Oman
Great workshop. A totally different experience – Dr M. H., Ministry of Health, Bahrain
Thank you for the interesting, motivating workshop – Dr I. Al D., Ministry of Health, Bahrain