Overview
The Pharmaceutical and Healthcare industries are going through tumultuous transformation, more so in the age of COVID 19. All organisations in the healthcare system from pharmaceutical companies through to healthcare providers, are under extreme pressure from the World Health Organisation to deliver safe, yet integrated patientcentred healthcare.
This 3-day intensive virtual programme will offer delegates a deep dive into understanding the intricacies of creating a Patient-Centric organisation. Relevant for all players in the healthcare value-chain, delegates will benefit from a deep-dive into the critical strategies and tactics critical to affect a deeper patient-centric cultural change within their organisations in the era of COVID 19.
Armed with their pre-course 'Patient Centricity Audit', delegates will benefit from best practice from the world's leading Patient-centric success stories as well as hands-on, practical training in devising their Patient Centricity Strategy, selecting appropriate metrics, setting effective key performance indicators (KPIs) and the most effective techniques available to achieve patient engagement.
Day 1 | 7 June 2022
Day 2 | 8 June 2022
Day 3 | 9 June 2022

Introductions The Lightning Speed of Change in Healthcare

Deep Dive Case Study: Mayo Clinic the world's most Patient Focused Hospital

Seamless Patient Experience

The Biggest Barriers to Patient Centricity

Patient Centricity Framework

Strategies for Implementing the Patient Experience Statement:

Deep Dive Case Study

Leo Pharma, a Success Story

Measuring success and generating engagement Success Strategies for creating a Sustainable Patient-centric Culture 

The Power of Empathy

Deep-Dive: Best Practice Case Study: Disney's WOWs – secrets of the most positively immersive experiences

Communication and Patient Engagement Strategies

Cultural Imperatives

Practical Case Study
JOIN THIS EXCLUSIVE 3-DAY VIRTUAL MASTERCLASS
USPs
Understand the impact of COVID 19 on Patient Experience and its long-term implications  available to achieve patient engagement
Discover a strategic framework for defining a best-in-breed Patient-Centric culture for their organisation
 Learn the latest techniques for implementing a cutting-edge Patient Centricity programme
 Set the optimal Patient-Centric Key Performance Indicators to drive their organisational results
Key Take-outs:
 Focus on Patient Centricity as a long-term competitive differentiator
 Insight into the opportunities presented by COVID 19 on Patient-centricity
Learn from best practice across sectors on how to set and implement a Patient- Centric culture
Hands-on experience of creating Patient-Experience Strategy
Deep understanding of the fundamentals of implementing Patient-centred transformations
 Learn to break through traditional silos for the benefit of the bottom line
Who should attend?
Patient Experience, Quality Assurance Managers, Physicians and Nursing staff looking to optimize their Patient
Experience strategy
Targeted Competencies

Directors aiming to devise their organisation's Patient Experience Strategy
Strategy/Marketing Directors and Managers

Patient experience design
Applying communication skills
Implementing service excellence
Coaching skills
Improving employee and patient engagement
Masterclass Leader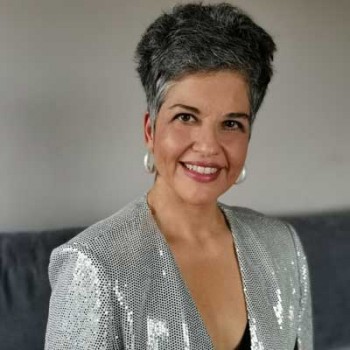 Christina Ioannidis, CEO, Aquitude Group – The Engagement Agency
Christina Ioannidis is the CEO of Aquitude, an international engagement consultancy, which works with corporations to engage with their main stakeholders – their employees and their customers. Christina has recently been awarded with the accolade 'Most Admired Brand Strategist 2019 – UAE' by Global Brands magazine.
Under Christina's leadership, AquitudeHealth, Aquitude's Healthcare division, has become the go-to consultancy focusing on the nexus of patient and employee engagement. Christina and the AquitudeHealth team have devised a unique 'Patient Experience Toolkit', enabling speedy and effective embedding of Patient-centric cultures and operations, as well as being the exclusive licensee for the PX Typology Assessment.
Christina has been engaged to review Strategic Patient and Consumer Experience processes, aligning both patient experience with clinical outcomes for government owned hospitals, such as the Ministry of Health- Bahrain. Ministry of Health, Oman. She has also provided extensive training to delegates from organisations such as the Royal Hospital – Oman, GlaxoSmithKline, Abbot Laboratories, La Roche, Merck, Pfizer.
As a natural change-agent, Christina is the host of the "Thriving Transformation" podcast which investigates international best practices in Patient and Customer Experience. She is a passionate advocate of 'Wowing' the customer / patient and is a thought leader in the subjects of Customer (Patient) and Employee Engagement, Engagement Measurement and Analysis, Retention and Life-stage Marketing, Talent Management, among others.
Testimonials PX Masterclasses
"Working with Christina Ioannidis and the AquitudeHealth team was extremely well received by the Ministry of Health, Bahrain. Christina's insights in offering patient-centric experience offered the Ministry, clinical staff and healthcare administrators a truly fresh perspective on a critical operational matter. Christina has also supported us in internal engagement activities for our female staff through the Female Majlis programme, which were a resounding success. I would wholeheartedly recommend Christina Ioannidis to any organisation willing to move the dial on their patient, customer and employee experiences."
H.E. Mrs. Fatema Abdulwahed M Al.Ahmed, Assistant Undersecretary for Human Resources and Services, Ministry of Health, Kingdom of Bahrain.
I attended the Patient Experience Strategy it was an amazing. Christina course and understands you to 'eat the individual challenges and helps the elephant' in bites. Compared with great example cases. As a coach and speaker, she is just incredible! It does not get boring for a minute. It is engaging and inspiring. And even after the course, we're in touch ever since. Thanks for this great experience, I highly recommend Christina!!'
R. S. C., Global Medical User Engagement Manager at klarify.me
I was very impressed at how Christina tailored the course to our needs. Excellent through and through.
Thank you, Christina Dr S. R., Acute Medicine, Royal Hospital Oman
Great workshop. A totally different experience – Dr M. H., Ministry of Health, Oman
Thank you for the interesting, motivating workshop – Dr I. Al D., Ministry of Health, Oman
Well-structured Masterclass, enjoyable and easy course – Dr S. S. Al S., Ministry of Health, Oman